Cockroach Control & Removal
Reliable Cockroach Solutions
Cockroaches aren't just nasty to look at: as carriers and spreaders of harmful pathogens, they also pose serious health risks – and they don't go away on their own. With our expert team of pest control specialists, state-of-the-art techniques, and environmentally-friendly solutions, we are committed to providing effective extermination and prevention, ensuring a safe and healthy environment for you and your loved ones.
The Dangers of Cockroaches
A roach infestation can pose several dangers to humans, largely centered around the health risks that they pose. Here are three ways a roach infestation can be dangerous for humans:
Disease Spread: Cockroaches can carry and spread various pathogens, bacteria, and viruses. They can pick up germs from contaminated surfaces such as garbage bins, sewers, and decaying organic matter and can transfer these harmful microorganisms to people.
Allergies and Respiratory Problems: Roach droppings, saliva, shed skins, and decomposing bodies release allergens into the air, which can be inhaled and lead to respiratory issues, especially for people with pre-existing conditions like asthma or allergies.
Worsening of Asthma: For people who already have asthma, a roach infestation can significantly worsen their condition. Cockroach allergens can act as powerful asthma triggers, leading to more frequent and severe asthma attacks – especially in children.
Our Cockroach Control Process
Our cockroach control process sounds simple, but has proven to be highly effective:
Inspection and Identification:
Thorough Assessment: Your Interstate technician will conduct a detailed inspection of your property to verify the infestation, identify the extent of the infestation and identifying the conditions that caused the infestation.
Customized Treatment Plan: Based on the inspection findings, we will determine the plan that is right for your problem and most likely to lead to solutions. This may include crack and crevice treatments, vacuuming, sanitation, exclusionary tactics, and/or baiting.
Monitoring and Reevaluation: Our process involves follow-up visits to assess the effectiveness of the treatment and make any necessary adjustments to the plan and give recommendations for long-term preventative measures.
Our Cockroach Removal Service Area
Interstate provides cockroach control to the following locations in southwest Washington and northwest Oregon and their surrounding areas: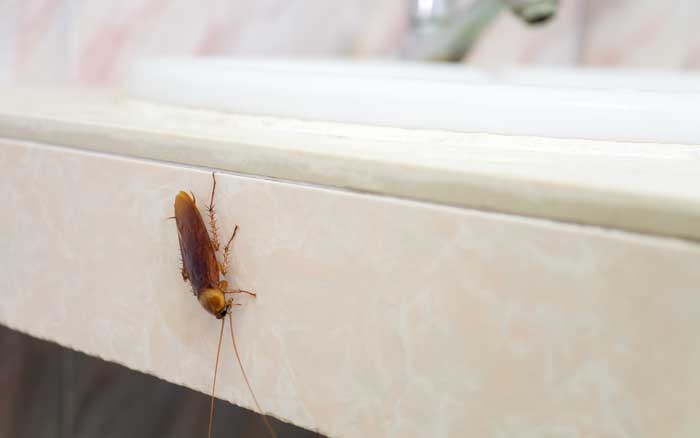 Learn More About Cockroaches
Want to learn more about cockroach identification, prevention, and treatment? Visit our cockroach Pest Identification page to learn more!
Learn More
All-Season Pest Control Package.
This year-round maintenance program includes quarterly treatments that safeguard your home against common household pests including carpenter ants, roaches, stinging insects, fleas, and more!
Learn More
"

All experiences have been very good and the people are very friendly and pleasant to work with.

"

Rhonda W.