Have a Question or Want a FREE Quote?
Fill out the form below to get started!
Just 90 miles east of the Pacific Coast on the north side of the Columbia River sits Vancouver, WA, part of the Portland metropolitan area in the U.S. states of Oregon and Washington. Vancouver, WA shares its name with Vancouver, BC in Canada, and even though the Canadian city boasts a larger population, Vancouver, Washington came first! The two cities are located about 300 miles away from each other. Portland, OR is much closer – directly south of Vancouver along the Columbia River which serves as the natural Washington–Oregon border.
As the county seat of Clark County, Vancouver is a growing city, especially the new waterfront community with tons of cultural and recreational experiences for visitors and locals alike to enjoy. And you can walk over the Vancouver Land Bridge from the Vancouver Waterfront Park to the Fort Vancouver National Historic Site. Downtown Vancouver is home to Esther Short Park – the oldest public park in the state of Washington plus public art, breweries, shops, and plenty of things to do.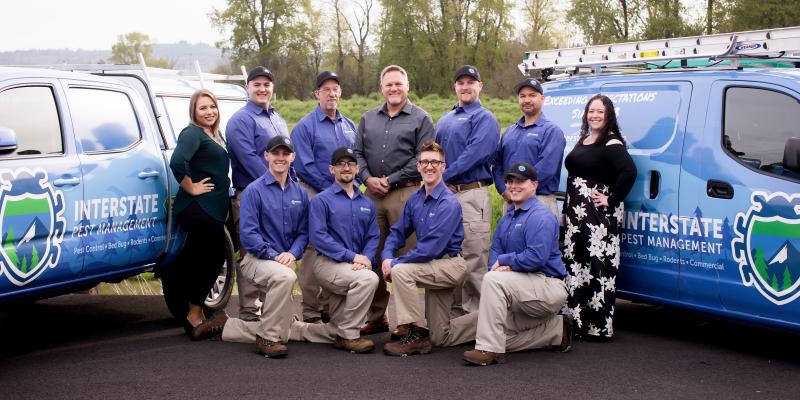 Living in Vancouver also means close access to the Columbia River Gorge Region, Mount St. Helens, and Pacific Coast beaches. While having access to the outdoors and nature is great, you'll want to keep some parts of nature away from your home, business, and other properties. At Interstate Pest Management, we're Northwesterners like you. This means we never like pests as roommates, but we respect the environment. We also strategize to create solutions tailored to your individual pest control needs.
One thing that people in Vancouver don't want to have to do is deal with pests! At Interstate Pest Management, we understand that and proudly serve the Vancouver community with green, eco-friendly pest services. 
Local Pest Control In Vancouver, Washington
Using a locally-based pest control service means that we will understand your needs better than anyone else. We are familiar with common pests in your area – how to identify them, remove them, and keep them from coming back. We treat common Vancouver, WA area pests including:
Vancouver, WA Area Residential Pest Control
Your Vancouver area home needs protection from pests. Our team provides a range of services to treat your home for common Vancouver pests including ants, bees, wasps, hornets, mosquitos, spiders, and termites. What makes us different is that we have:
The best customer service in the industry
Guaranteed residential pest control services
Honest, affordable pricing with no hidden fees
Green, eco-friendly pest solutions

Learn More
Vancouver, WA Area Commercial Pest Control
As a Vancouver area business owner, you don't get a second chance to make a first impression. Interstate Pest Management understands the importance of having a clean and safe professional facility - free of bugs and rodents. We offer:
Pest control for a range of commercial spaces
The most advanced elimination and prevention techniques
Honest, affordable pricing with no hidden fees
Green, eco-friendly pest solutions

Learn More
Our Vancouver Area Locations
Here in the Pacific Northwest, pest control is definitely a widespread need. Interstate Pest Management's Vancouver branch serves customers in the following areas: