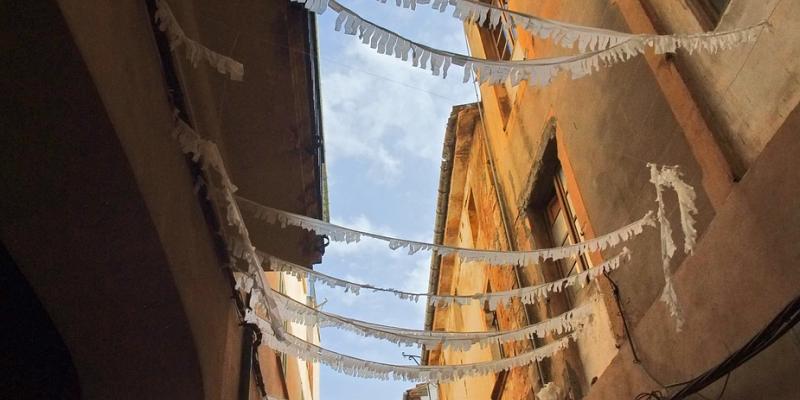 While most people get squeamish and run away screaming when they see a bug nearby, there are others who absolutely live, breathe, and eat (yes, EAT!) bugs. Because there are so many self-proclaimed entomologists out there, festivals surrounding and glorifying the very existence of insects infest towns all over the United States every year.
The Woolly Worm Festival (Banner Elk, NC)
Celebrating the ever so cuddly Woolly Bear caterpillar, this larvae of the Isabella Tiger Moth has quite the reputation. In some parts of the world, they believe the severity of the winter can be predicted by the intensity of the black on the wooly bear caterpillar. Whether or not she can foretell the future, this caterpillar is a real celebrity at this festival. The most noteworthy event is the woolly worm race. An excited crowd gathers, all cheering fluffy caterpillars to wiggle faster up a string toward the finish line above—nothing could be more stimulating!
Hahira Honey Bee Festival (Hahira, GA)
This bee loving festival boasts a tremendous 35,000 in attendance every year with a spectacular list of events to entice both old and young. From dog shows, to 5K races, to arts and crafts in the park, this festival draws attention for miles. Gospel singing and a parade all focused on the beloved honey bee, are the crowning jewels of this event.
Mariposa Butterfly Festival (Mariposa, CA)
What festival conjures up an image of thousands of tranquil, beautiful flutterbys flitting to heaven in the sunset? The Mariposa Butterfly Festival of course! WIth a butterfly release, a butterfly parade, and a butterfly hat competition—you will definitely enjoy your fill of this kaleidoscope of color. But that's not all! There's a quilt show, sidewalk chalk art, a free breakfast, costume contests, entertainment and much more! Why wouldn't you check this one out?
Firefly Festival (Tionesta, PA)
Aww…those little flies of glowing wonderment. What could be better than devoting a whole festival to that fantastical childhood favorite insect? With firefly exhibits, arts and crafts, music, vendors of all types, fun for the kids AND an all natural "light" show at night, this festival is nothing but fun!
Grasshopper Festival (Augusta, KS)
Celebrating the early pioneers of Kansas who persevered through the 1874 grasshopper invasion where grasshoppers ate tree, shrub, and crop and then proceeded to eat even the clothes on the line. This family friendly, down home party includes a barbeque contest, barbeque dinner, live music, children's events, an art fair, and a movie night. What better way to honor those courageous pioneers than by glamorizing their grasshopper villains, right?
The varieties of bugs are about as diverse as their corresponding festivals, so pick your favorite bug and search to find a festival to match because there will most likely be one to tickle any insect fantasy you might have.