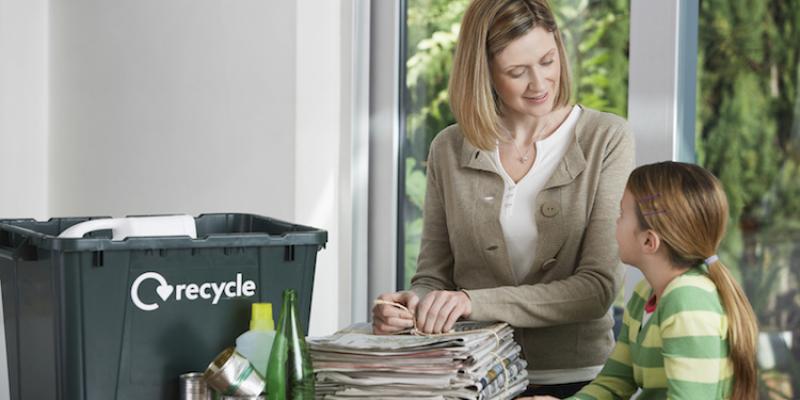 Spring is finally here, and it's time for the clouds that have been covering the Pacific Northwest to give way to blue skies. We're as anxious for some sunlight as you are, and in anticipation of the changing of the seasons, we've already begun doing some spring cleaning. Here are some tips that help make spring cleaning easy on you and easy on the environment.
Donate
Chances are that spring cleaning is going to result in getting rid of stuff you never use. Don't just throw this stuff away, donate it! There's plenty of organizations that love free clothes and toys, or maybe you have a relative or friend that can use your old stuff. You can always have a yard sale!
Recycle
We don't just mean newspapers, glass, magazines, and cardboard. If you're getting rid of electronics like VCRs, old computers, or light bulbs, find a recycling program near you that will handle all of these items properly.
Go Paperless
There are many organizations out there that can help you get off of mailing lists. Their goal is to stop the waste of so much paper ending up in your mailbox just to be immediately thrown out. You can also pay bills online rather than sending checks every month.
Cleaning Products
You can buy eco-friendly cleaning supplies for your deep spring clean, or you can make your own. Hot water, vinegar, and baking soda can clean most surfaces, and you can even add a few drops of essential oils to give off a scent you enjoy. Many regular cleaning supplies can be very harmful to children or pets.
Stop Wasting Paper Towels
Instead of using paper towels for every job, you can rip off a piece of old clothing or use towels you plan on throwing away.
Conserve Water
Make use of all the rainwater we get. Collect rain in buckets or barrels and use that this spring to water your lawn or garden.
Laundry
If you're in the market for a new washing machine, get one that's energy efficient. Your utility bill and the environment will thank you. And now that the sun's shining, hang your clothes to dry outside rather than using a drying machine.
Solar Energy
Solar power is another great way to save on energy. Use the natural resources of the sun to provide electricity to your home or your car (if you drive an appropriate vehicle).
It's That Time of Year!
We hope these tips help you have a productive and green spring cleaning. As pest control professionals in the Pacific Northwest, no one knows more how trash and clutter can attract pests than the team at Interstate Pest. If you follow these tips, you'll be less likely to have pest control problems, which is just another benefit to spring cleaning!