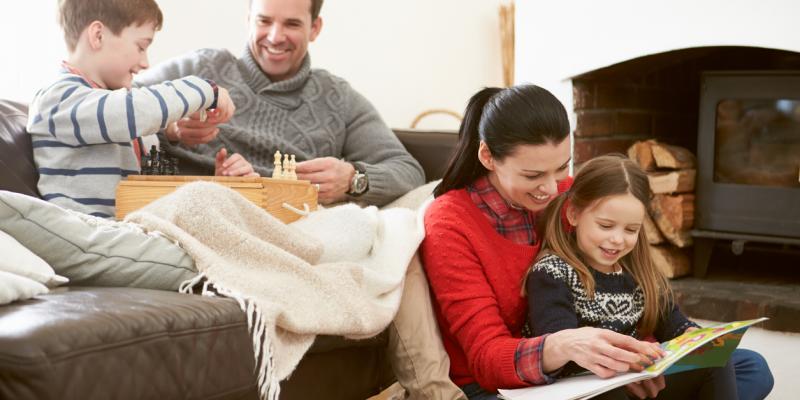 As cooler weather sets in and the holidays approach, it's time to start thinking about getting your home ready for the winter! Winter weather can cause all kinds of problems, and often those problems are easy ways for common winter pests to enter your home. Check out our five tips below to get your home ready for the winter weather!
1) Clean Your Gutters
When dirt and debris clog your gutters, it can be hard for water to get through, causing rot and other damage to your home. In the winter, this problem intensifies even more! Extra weight from snow and ice can cause gutters to sag and fall, and make it easy for dangerous icicles to form around your roofline. Protect your home by cleaning out gutters before the snow hits, and be sure that downspouts are at least five feet away from your home to prevent flooding the foundation!
2) Add Lighting to Paths
As the sun starts going down earlier, you may find yourself stumbling a little more than usual on your way inside, and as soon as ice hits the problem gets even worse! Make things a little easier by installing lighting along pathways in your yard. Opt for solar powered options to ensure your electricity bill doesn't take a hit, and go ahead and stock up on salt and shovels for when the snow comes!
3) Seal Windows and Doors
Properly sealing windows and doors is another important step in winter prep! Not only does this keep the warmth in, but it also keeps unwanted rodents and pests out. Make sure your windows and doors are secured by re-caulking cracks, installing storm windows or repairing screens, and installing a door sweep. Your family and your energy bill will thank you!
4) Maintenance Furnace and Chimneys
Now that your doors and windows are sealed, it's time to start up the fireplace! Before you light the first match, make sure the fireplace and chimney have been properly cleaned and inspected. Once it gets the all clear, install a vent screen to keep any creatures from making their way in through the chimney.
5) Get Ready for Guests
As the holidays roll around, you're bound to have some family and friends in town. Make your house feel like home for you and your guests by decluttering and reorganizing! In your common areas, try rearranging furniture to make room for additional seating. Try multifunctional seating that can provide storage for items, while doubling as seating for guests. If you have a guest room, be sure to change the sheets, and stock the bathroom with a few essentials guests tend to forget.
Last but not least, clear clutter in every room — including attics and basements! Excess clutter – especially cardboard – is a great spot for rodents and other pests to hide, and will often camouflage issues until it turns into a full-on infestation! Make it a point to go through any unlabeled boxes and every decoration you have in storage, even if you think you won't need it this year. There are plenty of ways to donate unused items, so take this as a chance to do some good and donate excess items. If you aren't going to use it, but can't stand to part with it, repack and put it neatly back into storage in plastic, air-tight containers.
Let the experts make it easy!
If you discover pests in your home while you're getting ready for winter, call the experts at Interstate Pest! With expert advice and years of experience, we can handle any pest problem and offer complete elimination of even the most severe problems!