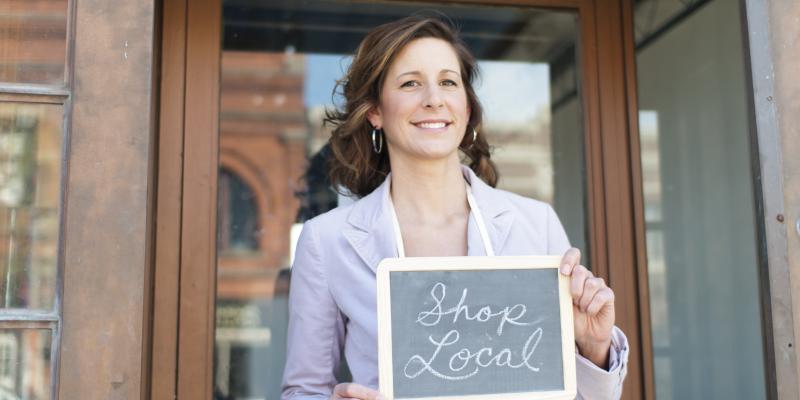 Small Business Saturday—probably one of the only shopping holidays most of us actually look forward to! The chance to support our local businesses, give back to our communities, and stock up on unbeatable holiday gifts for loved ones makes it a day that's truly well-spent. That's why we put together this list of local hotspots in the Pacific Northwest, so we can brave the shopping season and support our neighboring businesses together!
Artistic Portland
318 SW Taylor St.
Portland, OR 97204
(503)206-4631
An artist co-op store in the heart of Portland is the perfect stop to find creative pieces and crafts for anyone on your list. Not only does it support the city's talented array of local artists, but it also offers a huge variety of unique gifts in one convenient location, making it the definition of shopping local.
Charming The Moon
917 SW Washington St.
Portland, OR 97205
(503)227-0586
Offering unique treasures like quartz and moonstone jewelry, and jasmine and green moss scented candles, this gift shop is perfect for the truly Zen people on your list. They also have a variety of ceramics and cards from local makers and artists, making this year's gift-giving truly one-of-a-kind.
ReClaim It!
1 N. Killingsworth St.
Portland, OR 97217
(503)866-7855
Turning trash into treasure, this non-profit retail store is focused on salvaging materials to be reclaimed, resulting in amazing artwork, refurbished furniture, and rare antique pieces. While they don't reclaim the pieces for you, they do handle the dirty work: saving and sorting quality pieces from local disposal stations and making your next project that much easier.
Natural health and wellness are the gifts that keep on giving. Especially when it comes in the form of this healing center's acupuncture, herbal medicine, chiropractic care, nutrition therapy, and even Tai Chi and Qigong services. Using the power of natural medicine, this business is all about keeping our locals happy and healthy.
Beacock Music
1420 SE 163rd Ave.
Vancouver, WA 98683
(360)694-7134
Family-owned since 1976, Beacock Music is truly Vancouver's music store. With an impressive inventory of instruments and endless lessons and classes, this small business is a music lover's dream. It covers all tastes and styles, and has a wide variety of instruments ranging from orchestra and guitars to keyboards and percussion, so any gift is sure to be a hit!
Celestial Balance Body Products
1902 Main St.
Vancouver, WA 98660
(360)695-9260
Help your friends and loved ones take care of their skin this winter with a little TLC from Celestial Balance Body Products. With something for every skin type, this local shop is a hot spot for battling the Pacific Northwest winters. Shop their superb selection of all-natural products for skin care, including unique soaps, salts, lotions, candles, and more to show your loved ones how much you really care.
Now that you've got just a few of our favorites, we ask you to join us on Saturday, November 28th as we shop Small Business Saturday here in Portland and Vancouver. Because no gift keeps on giving like the one that supports our neighboring businesses and communities!
This holiday season, don't forget about your local service-based businesses. When a pest problem comes up, your friends at Interstate Pest Management can help! Learn more about our services today.