Rodent & Wildlife Exclusion Services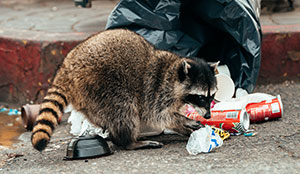 The Pacific Northwest is home to many wildlife animals from rats and squirrels to and birds. But just because these critters are labeled as wildlife animals, it doesn't mean they only live in the wild. These animals have become very adapted to living in urban areas so even if you live downtown, you can still encounter wildlife infestations. This is why we at Interstate Pest Management provide rodent & wildlife exclusion services to our customers.
What is Wildlife Exclusion?
Wildlife exclusion is a humane approach to pest control management. It involves sealing off potential access points around your home or business to help prevent wildlife from entering and making homes. It's effective, safe, and environmentally-friendly.
We may use a variety of methods to remove and exclude wildlife from your property including:
Removing pheromones and other animal secretions from your property that may attract more wildlife
Repairing foundation cracks and siding cracks
Sealing window frames, doors, and utility line areas with a chew-resistant caulking
Installing mesh wiring over chimneys, vents, and other openings
For existing wildlife issues, we not only safely remove the animal(s), but we also clean up any hazardous waste they have left behind. Additionally, we may apply non-toxic chemical repellents, use monitoring stations or use sounds to help deter these critters from returning.
Why Rodent Exclusion is Important
Wildlife animals can cause serious damage to your home, belongings, and property. They've been known to scratch and chew through wood and wires, contaminate food, and leave waste everywhere. They can enter your home through chimneys, vents, and plumbing.
When a wildlife animal is removed from your property, only your current problem is solved. If your home or business is vulnerable, pests will continue to return year after year. Wildlife exclusion will help ensure this doesn't happen. Our technicians will inspect your property and take the appropriate steps to protect your property against rodents and wildlife animals.
Contact us for Rodent & Wildlife Exclusion Services
Whether you have birds making nests in your eaves or squirrels scurrying about in your attic, Interstate Pest Management can help. We provide rodent & wildlife exclusion services for homeowners and businesses in the Southwest Washington and Portland, Oregon area.
We believe in cutting off your pest problem at the source. So we will remove the pest, use prevention techniques, and follow up to make sure they don't come back.
Wildlife Exclusion & Trapping
Has a wild animal already entered your home or business? We also offer wildlife trapping services. Wild animals such as racoons, opossums, squirrels, and raccoons are very common in our area. When they enter your property they can cause damage, spread diseases, and even become aggressive toward you, so if you've encountered a wild animal, keep your distance and contact us immediately. We provide wildlife trapping services to both homeowners and businesses in the Portland OR and Vancouver WA area. We'll effectively remove the wildlife from your property, cleanup their bodily waste, and sanitize areas, leaving you with a clean and safe environment.