Crawl Space Water Remediation Services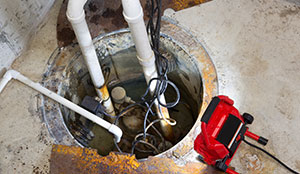 Having water in your crawl space is not only a nuisance, but it can affect your home's value and your family's health.
Excess moisture or standing water can cause mold problems that lead to health issues. It can also cause your wood beams to rot, your floors to sag, and cause your insulation to be less efficient. The presence of moisture is also a popular attractant to pests including, rodents, carpenter ants, and termites.
If you have discovered water in your crawl space, contact Interstate Pest Management. Your crawl space can present many health and safety hazards. And we have the tools and experience to safely and effectively perform your crawl space water remediation services.
Sources of Crawl Space Water
The first step in solving crawl space water problems is to locate the source of the water. Water in your crawl space can come from a variety of sources including:
Plumbing leaks
Sprinklers
High groundwater table
Ineffective gutters & downspouts
Overwatering
Spigot leaks
Swimming pool leaks
Our experts are highly experienced in crawl spaces. They'll thoroughly inspect your crawl space and locate the source. Then provide you with recommendations according to the extent and cause of your water problem.
How Our Crawl Space Water Remediation Services Work
While everyone's water problem is different, below are some of the typical steps we take in our crawl space water remediation services.
Locate the source of crawl space water
Remove vapor barrier
Dig a trench around the interior part of your foundation
Install a perforated drain pipe in the trench
Fill the trench with gravel
Install a GFCI electrical outlet to provide power for a sump pump
Install new 20 mil thick CleanSpace® vapor barrier
Professional Crawl Space Water Remediation Services
Damp environments can lead to a variety of problems from mold growth to structural damage. If you have a vented dirt crawl space, you may also experience higher heating and cooling costs. Plus, insects and rodents of all kinds thrive in damp conditions.
Here in the Pacific Northwest, we experience a lot of rainfall so it's important that you take the appropriate measures to protect your crawl space. From your initial assessment to your crawl space water remediation services, we'll ensure your crawl space is protected for years to come! Contact us today to schedule your free quote! We proudly serve homeowners and businesses in the Portland-Vancouver area and Longview-Kelso area.