Vapor Barrier Replacement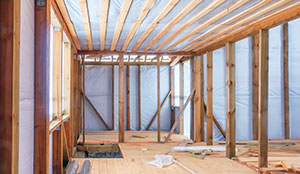 Your crawlspace is a cool, dark, space that can be inviting to pests if the appropriate measures aren't taken. One of those includes vapor barrier replacement which is especially crucial if you have a dirt floor in your crawl space because dirt naturally creates moisture.
Interstate Pest Management has been providing vapor barrier replacement services and crawlspace encapsulation for nearly 60 years. If you're ready to transform your damp crawl space into a dry, clean, and energy-efficient space, contact us. We can use CleanSpace® vapor barrier technology to create a barrier that keeps cold air and moisture out and retains heat.
What are Vapor Barriers?
Before deciding if you need a vapor barrier, it's important to understand exactly what a vapor barrier is and what it does. Vapor barriers are plastic liners that cover the ground in your crawl space. They're used to help control moisture levels and temperature levels, providing energy efficiency, comfort, and livability.
In Oregon and Washington, it's required that your liners be black and be at least 6mil in thickness to be up to code. Here at Interstate, we offer vapor barrier replacement to code, and for our customers that are looking for extra protection, we offer vapor barriers up to 22 mil in thickness as part of our CleanSpace® services.
Do I Need Vapor Barrier Replacement?
Vapor barriers can become compromised by water leaks or animal waste so if you've determined there's an issue with your vapor barrier, you'll want to address it sooner rather than later because it can affect your indoor air quality. In fact, researchers say as much as 40 percent of the air in your home comes up through your crawlspace. So mold, urine, dust, and pathogens that accumulate in your crawlspace can seep into your home for your family to breathe in. Below is a list of common signs you may want a vapor barrier.
Mold
Mildew
Pest problems
Window condensation
High-cooling costs
Uneven or soft floors
Professional Vapor Barrier Replacement
Interstate Pest Management can help control one of your home's worst enemies: moisture. Moisture not only leads to wood rot, mold, and unpleasant odors, but it also attracts pests. Because moisture is so common in the Pacific Northwest, we proudly offer professional vapor barrier replacement services to homeowners and businesses here.
If your vapor barrier has been damaged it's important to have it replaced. Moisture in your crawl space can affect your indoor air quality, lead to odors and mold, and increase your risk of pest infestations. When you work with Interstate Pest Management for your vapor barrier replacement, we will install your vapor barrier up to code, ensuring you will not face any moisture problems in the future. We provide upfront costs and exceptional service. So give us a call today to schedule your free no-obligation quote!