Sump Pumps and Catch Basins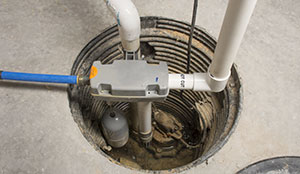 Standing water in the crawl space of your home or business can lead to a plethora of problems from structural damage to mold growth. If you believe you have standing water in your crawl space Interstate Pest Management can help. We provide sump pumps and catch basins for properties that continually suffer water issues in their crawl spaces.
What is a Sump Pump?
A sump pump is a submersible pump used in crawl spaces and basements that pumps water up and out into a nearby dry well, drainage pond or catch basin. There are two main types of sump pumps:
submersible sump pumps: are installed in sump pits and sit within groundwater. They're the most commonly used sump pumps. They're quiet, cleaner, and safer if you have young children.
pedestal sump pumps: sit on top of a pedestal with a hose that goes into the sump pit. They're more affordable and last longer.
What is a Catch Basin?
A catch basin, also called a storm drain, is a drain used to collect and divert water via a network of underground pipes. Catch basins have a box that lies in the ground with a grate on top to filter out large objects. If you notice pooling water in your crawl space after heavy rainfall or a spongy lawn, you may be wise in getting a catch basin installed. They are effective in keeping basements and crawl spaces dry and helping prevent soggy lawns. They are helpful if you have a sloped property.
Signs You Need a Catch Basin
Some signs of water in your crawl space can be obvious, but let's face it not many homeowners regularly visit their crawl space. So here are some other common signs you may have a moisture problem in your crawl space.
Buckled flooring
Damp carpeting
Musty odors
Mold growth
Increased humidity
Higher energy bills
A decrease in HVAC efficiency
Standing water or even just slight moisture can have adverse effects on your home and your well-being. Water can cause wood rot, affecting the structural integrity of your home and therefore its value. Standing water also decreases your indoor air quality by producing mold. Mold can cause people to suffer allergies, itchy eyes, and headaches. In fact, some mold can be toxic, including black mold. Black mold can cause permanent damage to your respiratory system and has even led to death. So if you have standing water it's better to address the issue sooner rather than later.
Professionals in Sump Pumps and Catch Basins
Keeping your crawl space dry and protected is essential in helping prevent costly repairs in the future. Whether you already have a moisture problem in your crawl space or want to take preventive measures, contact Interstate Pest Management. Our team of crawl space experts will quickly and effectively install your sump pumps and catch basins. We serve homeowners and businesses in the Pacific Northwest, from Longview to Portland and we provide free no-obligation quotes!