Crawl Space Restoration & Clean Up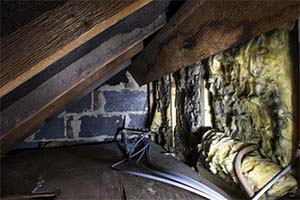 Once the crawl space of your home has been rid of pests or wildlife, there is probably a nasty mess left behind by your unwanted visitors. Interstate Pest Management offers comprehensive crawl space repair and cleanup services specifically focused on rodent, nuisance wildlife and general pest clean up. When pests inhabit a crawl space, it can quickly become a cesspool of fecal droppings, urine, bacteria and other waste.
Fixing Crawl Space Damage
The presence of rodents and wildlife in your crawl space can cause mold and decay, due to the feces and urine of the critters not to mention a very unpleasant smell. Rodents are also known for nesting in and damaging insulation, and vapor barriers. In addition, it is not uncommon to find food, nesting material, dead rodents, wood debris and more when removing damaged insulation and vapor barriers. Nuisance wildlife such as raccoons, skunks and opossums will tear down insulation, rip up vapor barriers and use the material for nesting. With raccoons it is also common to find they have pulled apart heating ducts that run through the crawl space to keep warm.
Crawl Space Clean Up
Failure to properly clean up your crawl space after a rodent or wildlife infestation can lead to a myriad of problems. The urine and feces will begin to emit a nasty odor, especially during the warmer months. This odor can travel throughout your home, and even outside depending on how severe the infestation is and the duration of time it goes unaddressed. Furthermore, the feces and urine can cause bacterial issues making the crawl space a contaminated and unsafe area. Another health concern is heating and air conditioning duct lines commonly running through the crawl space which can pull contaminated air from the crawl space into the live area of a home. We encourage you to hire professionals such as the team at Interstate Pest Management for crawl space repair who have extensive training and are equipped to clean, sanitize and repair your crawl space after a rodent or wildlife infestation to give you the peace of mind you and your family stay healthy and safe.
Comprehensive Crawl Space Rodent And Wildlife Cleanup Service
Interstate Pest Management's Crawl space Rodent and Wildlife Cleanup Service is guaranteed to have that area looking like new again. We will begin by bagging up nesting materials, debris, rodent & wildlife corpses, and other contaminated items in the crawlspace. Next all pier posts, foundation sill plates and duct lines are swept removing fecal droppings and other debris. Next damaged insulation is pulled and bagged up. Finally the damage vapor barrier is bagged up. Bagging the contaminated items in the crawlspace repair area before removing them prevents the spreading of contaminants. If the access to a crawl space is located on the interior of a structure a containment tunnel is erected from the crawlspace opening to an exterior door. This allows us to safely carry the contaminated item from the crawl space through a home to the outside without contaminating or dirtying the interior of a home.
Crawl Space Mold And Bacteria Disinfection
Now that the crawl space has been thoroughly cleaned out the entire crawl space is disinfected. This will help eliminate all mold and mildew, in addition to smells, germs and bacteria from the space. Once the space is clean, we will conduct insulation and vapor barrier repairs. Lastly, we will make sure to inspect for any openings in the space where rodents or other critters may enter, and seal those places up if necessary.