Insulation Replacement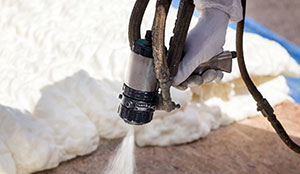 Few places in your home are less traveled than your crawl space. However, you should still be diligent about making sure it's clean, dry, and that everything is in working order, including your insulation. Oftentimes we find insulation that has been pulled down and contaminated with rodent feces, rodent corpses, and nesting materials.
Crawl spaces provide habitable conditions for many pests and you may be unaware of their existence until it's too late.
At Interstate Pest Management, we offer insulation replacement services for homeowners and businesses. We'll remove your old, damaged insulation and anything else that is keeping your crawl space from being clean and efficient. Then, we will properly install your new insulation, maximizing your energy efficiency and comfort.
How Often Should I Have My Insulation Replaced?
Insulation typically begins degrading and peeling after about 15 years. However, if you're noticing higher utility bills, cool drafts or issues trying to heat and cool your home, it may be time to have your insulation replaced. If your insulation has been damaged by pests, water or mold, it's also a good idea to have your insulation removed, your space thoroughly cleaned, and new insulation installed.
R-Value Insulation
Insulation is rated by its R-Value. This is a measure of its thermal resistance or how well it retains warm or cool air. Bare concrete foundation walls are about an R-1 while new attic insulation measures at an R-38. R-Value is proportional to the insulation thickness but it also depends on the type of insulation material being used and its density. The higher the R-Value, the better the thermal resistance you'll have.
Experts in Insulation Replacement
Your crawl space directly affects your home's comfort level in regards to humidity, air quality, and temperature. Whether your insulation has been water damaged or has simply reached its lifespan, Interstate Pest Management can help. We have the specialized equipment necessary to clean out your old inefficient or damaged insulation and replace it with new energy-efficient insulation. Contact us today for your free insulation replacement quote! We look forward to serving you!