Duct Insulation Wrapping & Duct Repair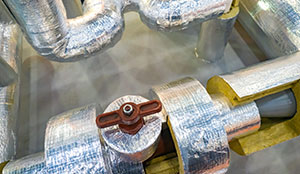 Duct insulation and wrapping is a great way to help improve the efficiency of your HVAC system, lengthen its lifespan, and cut your heating and cooling costs. If those sound appealing to you, Interstate Pest Management can help. We offer professional duct insulation wrapping & duct repair services to homeowners and businesses in Southwest Washington and Portland, Oregon.
Duct Insulation
The first thing we do for our air duct insulation services is to inspect your air ducts. We'll locate leaks and identify areas that need repairs. Then, before we perform any work, we'll provide you with an estimate.
Why You Need Duct Insulation
Air ducts come in a variety of styles, sizes, and materials. The most common include sheet metal ducts, fiberglass-lined ducts, and fiberboard ducts. But despite their differences, all air ducts when improperly installed can lead to leaks.
When contractors first install air ducts, they should seal the seams at connections and between duct pieces. If they do it incorrectly, rush the job or use the wrong materials, your ductwork may be compromised. Even so, the seals and other materials can deteriorate or shift over time, causing air leaks.
Air duct leaks will not only affect your ability to achieve exact comfort in your home or business, but it will also decrease your indoor air quality, allowing dander, dust, mold, and pollutants to circulate.
Benefits of Duct Insulation Wrapping
A home or business that has a properly insulated and wrapped duct system will see many benefits including:
Up to 40% savings on your energy bill
Increased lifespan of HVAC system
Energy efficiency
Improve comfort
Improved indoor air quality
Enhanced safety
Experts in Duct Insulation Wrapping & Duct Repair
Your home's duct system is essential when it comes to your home's comfort level and energy usage. If you believe you have duct leaks, contact us. We'll inspect your ducts, identify issues, and make the necessary repairs. We take your ductwork and insulation very seriously. We'll make sure you and your family achieve maximum comfort and maximum energy-savings. We can typically perform this service in one visit. So give us a call today to receive your free duct insulation wrapping & duct repair estimate! We look forward to working with you!