CleanSpace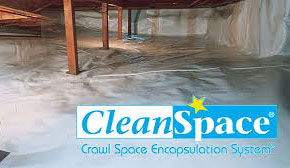 Your crawl space is one of those things we often forget about. But, your crawl space plays an important role in the comfort of your home. It can affect your humidity levels, temperature, and indoor air quality. Fortunately, we at Interstate Pest Management are committed to ensuring you and your family achieve maximum safety and comfort. We proudly offer CleanSpace® crawl space encapsulation systems to homeowners and businesses in the Portland and Vancouver metro area looking to protect their home.
Quick installation
Can be installed over crawl space walls and floors
Very durable and thick
Designed to work with other crawl space materials
25-year total performance warranty
What is CleanSpace®?
CleanSpace® is a crawl space liner manufacturer that provides highly-durable polyethylene blended liners to seal and protect your home against spores and moisture. A properly sealed crawl space can improve your indoor air quality, deter pests, and decrease the risk of wood rot often associated with dirt crawl spaces.
Should I Get a CleanSpace® Liner?
Because studies suggest around 40 percent of indoor air comes from your crawl space, it's important to keep your crawl space dry and clean. Adding a CleanSpace® liner is just one way of helping to improve your indoor air quality. It also helps protect your property against pests and increases your energy-efficiency!
Benefits of CleanSpace® Liners
Improved air quality
Increased energy efficiency
Helps create unfavorable conditions for pests including, wood-destroying insects
Provides more comfortable living conditions
Helps prevent mold and moisture damage
Your Local CleanSpace® Provider
A dirt crawl space under any structure can make your property vulnerable. The earth has very high humidity in the soil. This water vapor moves easily into the crawl space and upwards into the interior environment. CleanSpace® is a product that is capable of improving your indoor air quality, decreasing power bills, and tackling any problem under your building, including water. Contact us today for your free crawl space inspection!