Crawl Space Cleanouts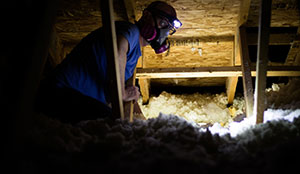 Are you smelling urine or mildew coming from your crawl space? Crawl spaces will start to emit odors when not properly cleaned. So if a rodent found its way into your crawl space, or a water leak occurred, you'll want to address it.
We at Interstate Pest Management are committed to ensuring your crawl space is healthy, energy-efficient, and moisture-free. If you need a crawl space cleanout, contact us today. We provide upfront pricing and free no-obligation quotes!
Why are Crawl Space Cleanouts Important?
Most pest odors in crawl spaces go unnoticed until spring and summer when temperatures begin to rise and those odors travel upward into your home. Even if the pest is long-gone, it's still important to have your crawl space thoroughly cleaned because those odors will impact your family's air quality.
In fact, studies suggest around 40 percent of your home's indoor air quality is affected by your crawl space. Your family deserves to breathe in clean, healthy air and we'll make sure you do.
We will take all of the necessary precautions to ensure your home is clean and healthy. We understand you may not enjoy going into your crawl space, especially when it's been contaminated by nasty critters, but fortunately, we do!
Deodorizing and Sanitation
In addition to removing contaminated or damaged materials in your crawl space, we also provide decontamination treatments using DSV. This disinfectant is highly effective in killing bacteria and works as a deodorizer as well. We use it to eliminate odors caused by rodents, mold & mildew, and any other unpleasant odors found in your crawl space.
Experts in Crawl space Cleanouts
If your crawl space is developing standing water, growing fungus, and has housed some unwanted pests, contact us for a crawl space cleanout. Our highly skilled crews will:
Remove pests
Remove your vapor barrier
Remove your insulation
Eliminate odors
Sanitize your crawl space
We can also provide you with a new vapor barrier and new energy-efficient insulation. We're your full-service source for reliable crawl space services.
We proudly serve customers in the Portland and Southwest Washington area. We provide exceptional customer service at a great value.