Hospitals Pest Control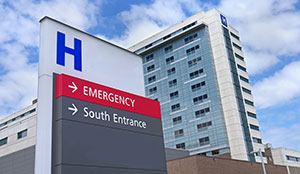 It's important that hospitals maintain a clean, safe, and sanitary environment — something a pest infestation of any kind can quickly threaten. Pests can spread bacteria, germs, and diseases. They can also exacerbate allergies and contaminate food — all of which puts patients, visitors, and staff at risk.
At Interstate Pest Management, we understand hospitals must meet local, state, and federal regulations to ensure they're providing a sanitary and safe environment and we can help. We've been providing hospital pest control services for over 50 years.
Our technicians have the experience and tools to quickly and effectively maintain the highest levels of health standards for hospitals and other healthcare clinics.
Dangers of Pests in Hospitals
Pests in any setting can be dangerous, but even more so for hospitals, because pests can carry harmful diseases and damage your reputation. Below are some things to know about when it comes to pests and hospitals.
Pests including, bed bugs, ants, and cockroaches are skilled hitchhikers. They can infest even the cleanest of properties via luggage, guests, and laundry carts
Bed bugs, cockroaches, and rodents are nocturnal pests, so they may slip into your building at night or simply hide during the day
Pests can be vectors for diseases which can lead to minor discomfort or even death in the most severe cases
Pests can cause structural damage and contaminate food
Joint Commission Accreditation for Hospitals
We know for your hospital to meet local, state, and federal standards, a lot of documentation is necessary, even for pest control. Our products and services comply with the standards held by the Joint Commission Accreditation for Hospitals. Plus, we provide our customers with detailed reports listing:
Any sanitation and maintenance problems
Pest activity
Pesticide usage
Bait & trap usage
Monitoring device activity and placements
Experts in Hospitals Pest Control
Hospitals must reach the highest standards of sanitation because they care for sensitive, unhealthy, and high-risk patients. If pests have infested your hospital, Interstate Pest Management will help. We'll employ solutions with a sensitive approach keeping patient and staff safety a main priority.
We've been exceeding customer expectations since 1963. We're prompt, friendly, and upfront with our pricing. You'll never experience hidden fees with us and our services are 100% guaranteed! So give us a call today to get relief from pests in your hospital.