Healthcare Facilities Pest Control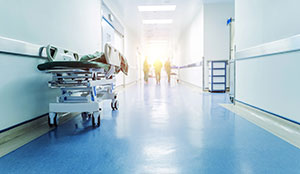 Hospitals, pharmacies, and nursing homes are intended to be clean and safe environments to provide healing and treatment. But they often include everything pests need to survive including shelter and reliable sources of food and water.
Pest infestations should not be in any healthcare setting, because they can spread germs, exacerbate allergies, and even transmit diseases. However, pest control in healthcare facilities requires a unique approach that focuses on chemical-free solutions.
We at Interstate Pest Management have the experience necessary in healthcare facilities pest control services. We'll make sure your staff and patients stay safe while targeting your pest problem. We're familiar with the Joint Commission's quality control standards when it comes to pest control management. We'll follow the proper protocols in providing your pest control treatment plan.
Eco-Friendly Pest Control
At Interstate Pest Management, we strive to eliminate pests naturally. We only turn to pesticides as a last resort. We instead, follow Integrated Pest Management (IPM) protocols to treat your pest problem without putting your facility, staff or patients in danger.
Depending on your specific pest issue and your facility, some of the pest control methods we use may include the following:
Inspection
Pest identification
Pest exclusion: which includes sealing off potential entry points
Addressing moisture issues
Applying caulk on cracks and crevices
Installing barriers
Using non-toxic baits and traps
We also continually monitor our techniques to ensure they're working effectively. Additionally, we can provide you with a detailed report that will include the services we performed and any sanitation or maintenance issues we uncovered.
Which Pests Are Common in Healthcare Facilities?
The pests we most commonly see in healthcare facilities include:
Bed bugs
Rats
Mice
Cockroaches
Ants
Flies
Generally, the larger your facility is, the more likely a pest infestation. This is why it's important to have an Integrated Pest Management program in place by a licensed pest control company. Pest control technicians like ours understand pests, their habits, and behaviors. They'll not only treat your problem now — but help prevent future infestations.
Pest Control in Healthcare Facilities
Pests in healthcare facilities aren't just a nuisance. Some pests like rodents and mosquitoes are vectors for diseases while other pests like cockroaches can contaminate food and cause allergy symptoms. Plus, pests can seriously affect your facility's reputation — which can be hard to recover from. Below are some things to know about pests and healthcare facilities:
Pests are attracted to moisture like plumbing leaks
Not storing food correctly or practicing proper sanitation can attract pests
Pests can enter through cracks, crevices, and utility areas
Pests can cause structural damage
Pests can gain access via luggage, purses, delivery boxes, and people
Some pests are nocturnal so they only come out at night
Our pest control technicians can inspect your property, identify vulnerable areas, and seal them off and use barriers to help prevent pests from entering your healthcare facility.
Professional Healthcare Facilities Pest Control
If you want reliable, year-round protection from pests, give Interstate Pest Management a call.
We'll develop a customized pest control plan tailored to your needs and pest problem. Our technicians are trained, certified, and follow IPM best practices to keep your staff, patients, and visitors safe.