Grocery Store Pest Control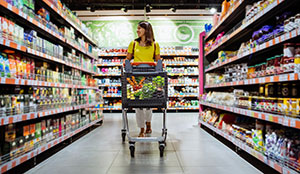 Grocery stores and other food establishments should provide customers with clean, safe environments and nothing can disrupt this like a pest infestation. Other than affecting your business' reputation, pests can destroy your property and the products you sell.
At Interstate Pest Management, we understand how important it is to maintain a pest-free environment, which is why we work quickly, efficiently, and safely. We'll treat and eliminate your pest problem for good, guaranteed!
Food Service Pest Control
We have provided safe and effective food service pest control for over 50 years. As experts in the pest control industry, we know exactly how to protect your store against common pests including:
Ants
Cockroaches
Rodents
Birds
Flies
Stored product pests
We offer a variety of pest control solutions for businesses in food service. Solutions that will ensure the safety of your products, your staff, and your customers. Using a customized Integrated Pest Management plan, we'll thoroughly inspect your property, identify pests and vulnerable areas, then provide effective solutions. We take every step possible before resorting to chemical products and when they are needed, we only use the minimum amount necessary.
Reliable Grocery Store Pest Control
Our technicians stay up-to-date with the stringent pest control standards in the food service industry. When we perform our services, we'll scan barcodes at various stations or areas in your store which inspectors and auditors can read automatically.
Experts in Grocery Store Pest Control
We are proud to offer a variety of full-service programs for all pest-related problems. They're fully customizable, effective, and safe. Our goal is to provide a proactive approach that will protect your store, your staff, and your customers. So whether you have an active pest infestation or you want to help prevent an infestation, contact us today for a customized grocery store pest control plan. We look forward to developing that specific program for you!