Vacation Rental Pest Control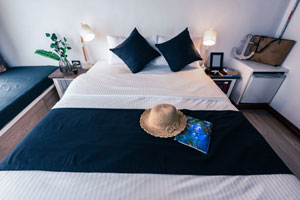 If you own a vacation home that you rent out throughout the year, you'll want to make sure it's clean, safe, and pest-free to keep renters happy. Unoccupied homes are vulnerable to pests. Not only will pest problems create uncomfortable living conditions, but they'll also tarnish your property's reputation, and impact your ratings if you host on Airbnb, VRBO, or any other website.
At Interstate Pest Management, we're proud to offer vacation rental pest control services to property owners in the Portland OR and Vancouver WA area.
Vacation Rental Pest Control Services
Homes, cabins, condos, and other overnight rentals can all suffer pest problems if not properly maintained. If you rent out any type of property to the public, you'll want to ensure it's safe–something a pest infestation can quickly change. Whether it's bed bugs or cockroaches, pests can create unsafe environments, ruined experiences, and negative reviews.
When you schedule regular inspections with us, you'll be able to stay on top of pest threats and correct areas vulnerable to infestations. We'll thoroughly inspect your property, detect hidden threats, locate nesting areas, and seal all possible entry points. That way, pests are unable to enter your property. We offer three different packages to safeguard your home, depending on which pests your property is most vulnerable to. Each with quarterly, year-round visits to keep your vacation rental property safe all year long.
Vacation Rental Extermination
Just like any home or hotel, vacation rentals are also susceptible to pests. Even if the home is vacant for days on end, it should still be protected year-round. Our Various packages will keep your vacation rental protected from the most common household pests using the latest techniques and products. The last thing a customer wants is for pests to ruin their relaxing vacation.
You can rely on Interstate Pest Management to provide you with the peace of mind that your vacation rental is protected. Our team of highly experienced technicians works hard to protect your property for years to come. Not only do we use premier pest removal products, but we also seal all possible entry points to prevent future infestations.
We've been providing environmentally-friendly pest control services in the Pacific Northwest for more than 58 years. To schedule your free estimate, contact us today.