Apartment Pest Control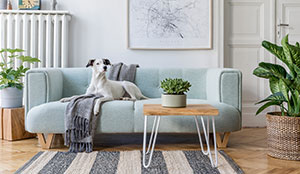 With apartments and other forms of multifamily housing, you can share a lot more than vents and walls — you can share pests as well! Many pests including, rodents and cockroaches will use vents and utilities as little highways to spread from one room to the next. This is why if you have a pest problem in your apartment building, it's best to leave it to a professional.
We will treat common household pests including:
Ants
Fleas
Cockroaches
Flies
Spiders
And more!
Our Apartment Pest Control Approach
At Interstate Pest Management, we implement Integrated Pest Management (IPM). We first inspect your property. We will work to identify the root of your pest problem and its magnitude. Then, we'll use natural methods to eliminate your pest problem before resorting to chemical products. And when pesticides are necessary, we only use minimum amounts to ensure your family and pets are safe. Then we'll monitor your property to ensure our methods are working effectively. Finally, we'll provide you with a report detailing our findings and services we performed.
Routine Apartment Pest Control Services
If your property is in a rural area that is susceptible to pests or you just want to ensure your property stays pest-free year-round, you can set up routine pest control services with us. We offer three different pest control packages based on your needs and your budget.
Professional Apartment Pest Control
No one wants to live in an apartment building that's prone to pest infestations. If you're dealing with a pest problem, contact Interstate Pest Management. One of our skilled pest control technicians will come to your apartment, identify the problem, and provide you with the best course of action.
Then, once your immediate pest problem is addressed, we'll work with you to ensure an infestation doesn't occur again in the future. We provide upfront pricing and unparalleled customer service. Contact us today for a free quote on your apartment pest control service!