Have a Question or Want a FREE Quote?
Fill out the form below to get started!
As the county seat of Clackamas County, Oregon City is also known for many things. It was the final wagon stop on the fabled Oregon Trail, the first incorporated city west of the Rocky Mountains, and Oregon's first capital city. Today, Oregon City is a beautiful, historic city with lots to see, eat, drink and do. 
Its two major waterways are the Willamette River and the Clackamas River. If you love the outdoors, check out Willamette Falls where the two rivers meet, a natural waterfall on the Willamette River between Oregon City and West Linn, OR. 
If you love craft beer, Oregon City is a craft beer destination home to Oregon City as a true craft beer destination Coin Toss Brewing Co., Feckin Brewery, The Highland Stillhouse, The Growler Run, and Oregon City Brewing Company. 
The Oregon City Municipal Elevator is one of only four municipal elevators in the entire world, and the only "vertical street" in North America. The elevator goes up 130 feet high and offers an amazing view.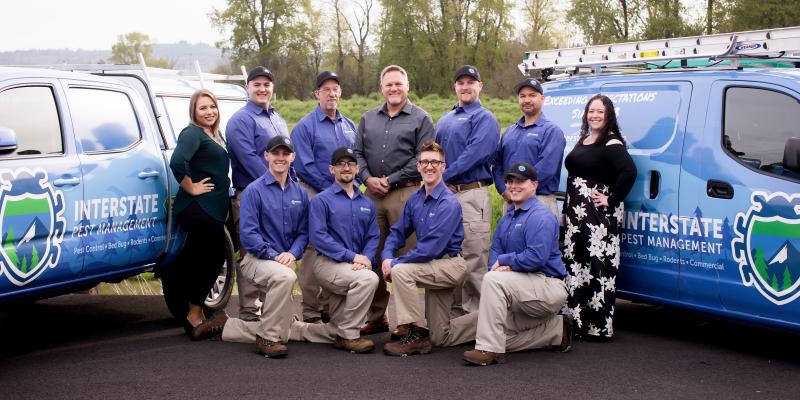 Pest Control in Oregon City
Interstate Pest Management's Portland Office, located just 13 miles away, proudly serves Oregon City and the surrounding area. As a local pest management company, we are familiar with common Portland-area pests including:
Fleas

Flies

Stinkbugs 

Ticks

And more!
We know that pests such as bed bugs and termites are especially hard to get rid of on your own. Learn more about the following Oregon City pest control services and extermination services: 
But we don't stop there! We can help you eliminate boxelder bugs, earwigs, flies, silverfish, stink bugs, and many other common insect pests. We offer the following services in Oregon City, neighboring cities West Linn and Gladstone, and across Clackamas County:
Oregon City Rodent Control & Removal Services
Rodents (e.g. mice and rats) are more than just nuisance pests. They spread diseases, can cause acute food poisoning when they contaminate food, and they are also destructive. Interstate Pest Management's rodent control services target common Oregon City rodent pests including Norway rats, roof rats, house mice, deer mice, and field mice. We take care of rodent infestations so you don't have to!

Learn More
Oregon City Wildlife Trapping & Removal Services
Wild animals are very common in the Pacific Northwest, including in and around Oregon City. So how do you know when you need professional help? The answer is when wild animals (e.g., opossums, raccoons, and squirrels) gain access to your property or your home. They can cause damage, spread diseases, and even become aggressive. The expert wildlife removal team at Interstate Pest Management can help with:
Year-Round Oregon City Pest Control
Get protection from the most common Oregon City pests including ants, fleas, roaches, spiders, and more. At Interstate Pest Management, we offer affordable, quarterly, year-round pest control packages for commercial property owners, homeowners, and business owners in Oregon City including:
Our technicians are QualityPro certified and always use the minimum amount of the least invasive products that are even safe for children and pets.