Schools & Daycare Pest Control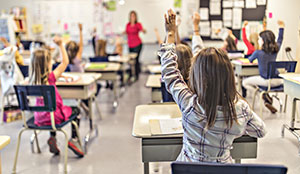 Pests in and around school properties not only disrupt education, but they also put staff and children at risk of potentially harmful bacteria. Young children are known to put anything in their mouths, so it's especially important to use caution when treating for pests in daycares.
Interstate Pest Management has worked with education facilities around the Pacific Northwest, from daycares and schools to universities and community colleges. We implement Integrated Pest Management (IPM) plans and utilize eco-friendly solutions in these environments to help keep children, staff, and the premises safe. Plus, if you have issues between services, we'll come back at no additional cost! We've committed to exceeding our customer's expectations since 1963!
Pests Found in Schools
A variety of pests can be found in schools and on playgrounds including:
Ants
Flies
Cockroaches
Stinging insects
Rodents
Spiders
Ticks
Fleas
Bed bugs
Head lice are also a common problem in schools, but they should be handled by a medical professional.
Chemical-Free Pest Control
Schools, daycares, and other educational facilities are at an increased risk of pests because of the large number of people who come in and out of their buildings. And treating pests in these environments comes with unique challenges. Regulations must be followed that comply with the Department of Health and the Environmental Protection Agency to keep children safe from pesticide exposure.
We follow an Integrated Pest Management plan, taking all of the steps possible to eliminate and prevent pests before resorting to pesticides. IPM is the safest and most effective way to control pests in classrooms and on playgrounds. It involves:
Thoroughly inspecting the property
Identifying pest problems
Eliminating the source of the problem by sealing cracks, moving trash cans etc.
Monitoring
Documenting and evaluating for effectiveness
When pesticides are used, only the minimum amount of the least invasive product is used.
Pest Control for Schools
If you're looking for a safe and reliable way to help protect your school or daycare, contact Interstate Pest Management. We've been providing sustainable, eco-friendly school and daycare pest control services for over 50 years. We have the experience and tools necessary to keep your property safe and pest-free.