Hotels & Hospitality Pest Control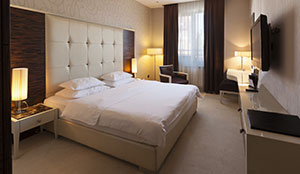 In the hospitality industry, we understand the importance of providing a clean, comfortable, and luxurious atmosphere. And we also realize how damaging a pest infestation can be to a hotel's reputation. Interstate Pest Management has been providing hotels & hospitality pest control since 1963.
We'll provide a pest control plan around your hotel's needs to ensure it stays pest-free year-round. We're upfront with our pricing and committed to providing green, environmentally-friendly pest services that are safe for your staff and guests.
Common Hotel Pests
Your hotel not only provides comfortable living spaces for guests, but it also attracts pests that are looking for warmth, shelter, and a constant supply of food. Some of the most common hotel pests include:
Bed bugs
Cockroaches
Rats
Mice
Fleas
Flies
Mosquitoes
A single bed bug sighting or cockroach sighting can quickly affect your business' revenue and reputation, especially with how much of an impact online reviews make in the hospitality industry today. Plus, some pests, including cockroaches and bed bugs, are more difficult to eliminate, especially in shared spaces. This is why at Interstate Pest Management, we focus on preventing them in the first place.
With an Integrated Pest Management program customized to your needs, we'll inspect your property, locate vulnerable areas, and offer preventive solutions. This may include barriers, baits, and traps. And if treatments are necessary, we only use minimal amounts ensuring your guests and staff are safe.
Safe and Effective Hotel Pest Control
Even though many pests are small, they can have a big impact on your business. So it's important to act quickly when you discover a pest. Neglecting to address your pest problem can lead to lost revenue, food contamination, and damage to your property and reputation.
A well-designed pest control plan by Interstate Pest Management will ensure your hotel provides a guest-free experience year-round. We're a locally-and-family-owned company that's been providing exceptional hotels & hospitality pest control services since 1963. We're upfront and honest with our pricing and our services are guaranteed!