Food Processing Facility Pest Control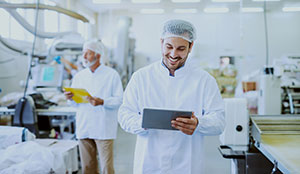 At Interstate Pest Management, we understand how important it is to have a clean and safe food processing facility. You cannot risk the possible contamination a pest infestation can bring. Not to mention, the recalls and shut-downs that may follow.
We have consistently helped our customers maintain pest-free food processing facilities since 1963. Our technicians have the experience and certification to help you meet pest control audit standards by the:
FDA
USDA
NSF
ISO
AIB
Primus
And other food safety organizations
We'll take the time to carefully fill out the necessary documents needed for third-party auditors. Our documentation process is just as thorough as our pest control techniques.
Preventive Pest Control for Health Inspections
We understand no two food processing facilities are alike so we provide customized pest control programs for our customers. They'll be tailored to your specific needs and pest control problems.
At Interstate, we are committed to following Integrated Pest Management techniques to eliminate pests before using chemical treatments. This means focusing on prevention rather than reaction by:
Thoroughly inspecting your property inside and out
Identifying vulnerable areas where pests could gain access
Developing preventive solutions
Using only necessary materials and products
Monitoring to ensure effectiveness and adjust as needed
Pest Control for Your Food Processing Facility
The food industry has numerous safety regulations and standards that must be met when it comes to pest control. These are to ensure the environment remains sanitary, risks of diseases are eliminated, and the quality of food isn't impacted. Whether you run a bakery or a cheese processing plant, you have to pass audits to maintain your certifications.
Our pest control services will go above and beyond regulations. With an effective Integrated Pest Management program, we'll pay extra attention to loading docks, product transport vehicles, and even non-food storage spaces that can create harborages for pests.
Experts in Food Processing Facility Pest Control
Pests are naturally drawn to food processing facilities and they can quickly compromise their sanitation, leading to halts in operations, shut-downs, and fines. To ensure your food processing facility maintains its cleanliness and upholds its food safety standards, it would be wise to work with a pest control company like Interstate.
We'll install barriers, nets, and rodent monitoring stations. We'll also make your facility less appealing to pests. So contact us today to get started on a customized pest control plan for your food processing facility